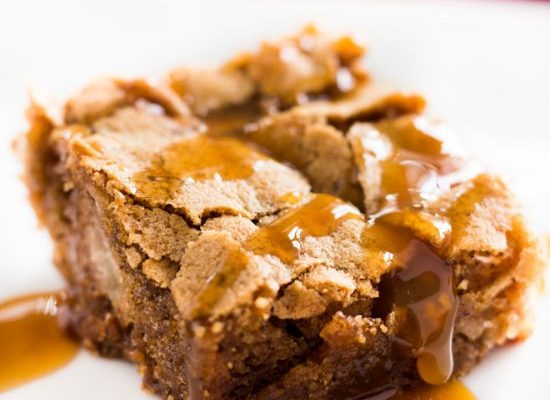 Food & Kitchen
Perfect Caramel Apple Cake
By
|
Ingredients:
2 cups (250 g) flour
2 teaspoons cinnamon
1 teaspoon baking soda
1/2 teaspoon baking powder
1/2 teaspoon salt
2 eggs
3/4 cup (178 ml) vegetable oil
2 cups (400 g) sugar
1 teaspoon vanilla
3 cups (300 g) peeled chopped apples
1 recipe homemade caramel sauce
Directions:
Preheat oven to 350° F. Grease a 9-inch x 13-inch cake pan and set aside.
In a medium bowl, whisk together flour, cinnamon, baking soda, baking powder and salt. Set aside.
In the bowl of a stand mixer (or using a hand mixer), beat together eggs and vegetable oil on medium speed until smooth, about a minute. Add sugar and vanilla and beat until incorporated, about 30 seconds. With the mixer on low, slowly add the flour mixture until just incorporated. It's okay if there are a few bits of flour showing.
Remove bowl from stand mixer. Using a rubber spatula, stir in chopped apples. The batter will be very thick and there will be a lot of apples (that's a good thing!).
Pour batter into the prepared baking dish and use the spatula to spread batter evenly. Bake for 35 to 40 minutes or until golden brown and a toothpick inserted in the center comes out clean or with little crumbs on it. Allow cake to cool completely in pan.
While cake cools, make the caramel sauce (or have it already prepared).
Cut cake into 2-inch by 2-inch squares and serve with a drizzle of caramel.
Caramel apple cake is best when eaten day of, but can be covered and stored at room temperature for up to three days.