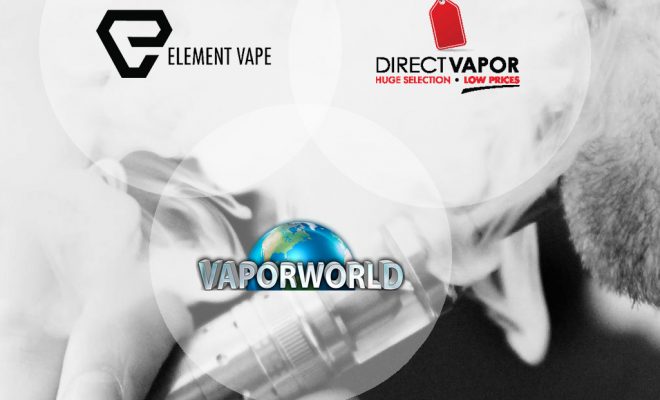 Vaping & E-Cigs
The Best E-Cig/Liquid Online Shopping Destinations: Element Vape, Vapor World & Direct Vapor
By
|
With the smoking industry growing and becoming more innovative, electronic cigarettes are becoming more popular. People of different ages are giving up the classic cigarettes and instead are choosing electronic ones for many reasons, one of them being that they are much better for your health.
And while usual cigarette smokers have a preference for a certain brand or taste, electronic cigarette enthusiasts care about many more things. They care not only about the brand, but about the taste, experience and most importantly, about the style.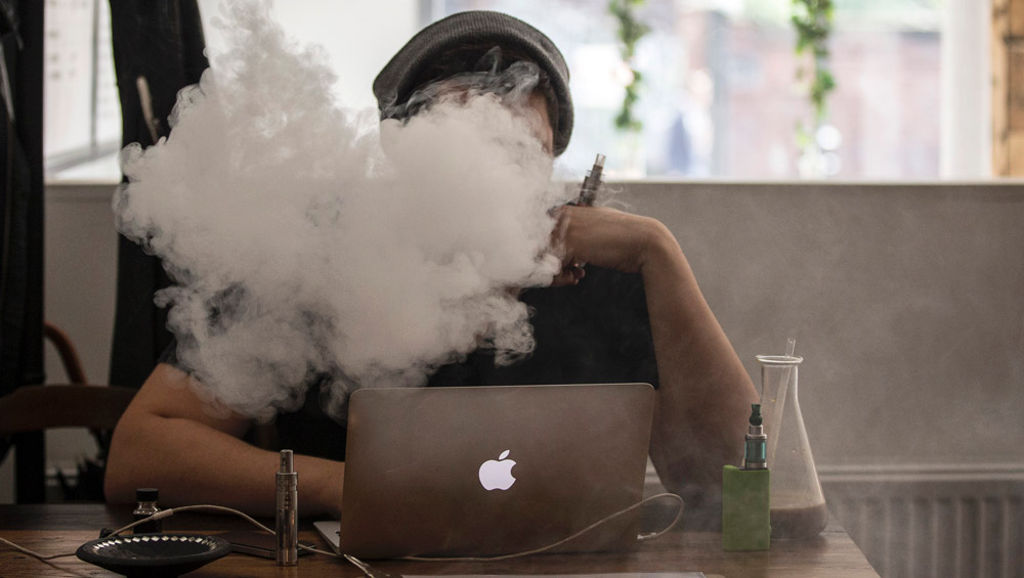 So naturally, online stores that could offer the biggest selection started dominating the industry. Element Vape, Vapor World and Direct Vapor so far are the biggest ones that offer a huge variety of vapors for everyone's taste. But which one is the best? We did a quick comparison of these three stores to see for ourselves.
Price
We decided to compare prices of the starter kits that we found in each store. Depending on whether you want to only try it out or really invest in your starter kit to get the best experience, Element Vape you'll find starter kits ranging from $14.95 to even $219.95. It is safe to say that this store targets a broad range of clients – the ones who just maybe want to buy it for fun and the ones who are ready to fully invest.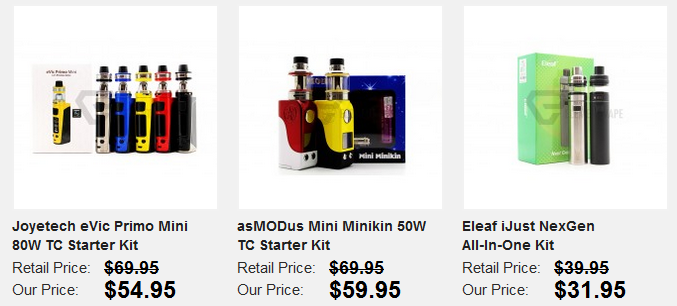 Direct Vapor also has a huge variety of starter kits to choose from. However, you won't find many exclusive and unique products there. This store, unlike Element Vape, targets everyday smokers who are not looking for anything special, so if you want something more special, this is not the place for that. Direct Vapor offers loads of starter kits to choose from, ranging from $14.95 to $89 for a kit.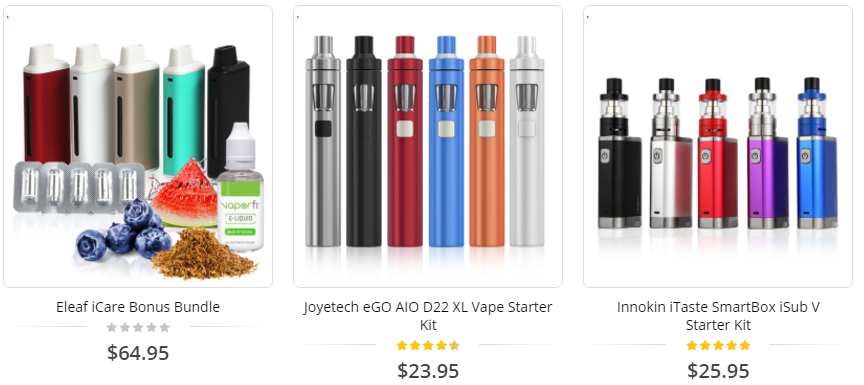 Lastly, Vapor World offers the smallest selection consisting of only 3 kits and is mostly for those occasional smokers that only smoke from time to time. Their cheapest set is only $15 dollars which integrates of both a tank and a mod into one unique device. You can purchase their most expensive kit for only $19.25 which supposedly enhances the taste.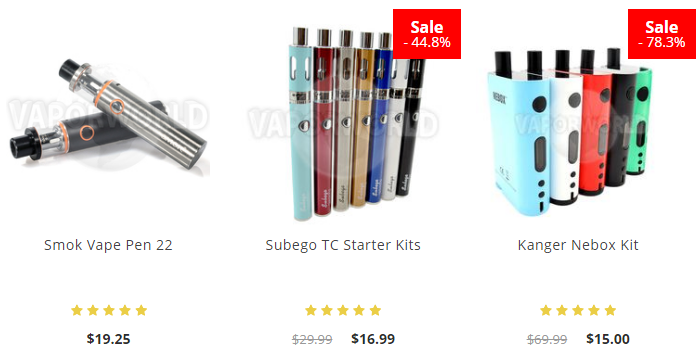 All in all, it depends on what you are looking for and what kind of smoker you are. If you smoke only occasionally, a simple starter kit is all you need and you probably won't even be willing to spend much. But if you're really looking for to get the full experience, it's much better to invest in a good kit from either Element Vape or Direct Vapor.
Style
You would think that when you are creating electronic cigarettes, there's not much room for creativity. Such stores like Element Vape and Direct Vapor would prove you wrong. Both of these stores has an amazing selection of e-cigarettes to choose from.
Element Vape, as it was mentioned before, is the one store that offers both simple and unique products. If you want something simple, you'll find it there. If you want something truly special that will take your smoking experience to a whole new level, you will also find it there. Sleek, modern designs is something that this store is know for and they have many colors for you to choose from.
Direct Vapor offers more classic designs, so if you want something unique, chances are you might not find it there. However, they also have many prints and designs to choose from. You want an e-cigarette with animal print or just a plain simple one? Well, you'll find it there for sure.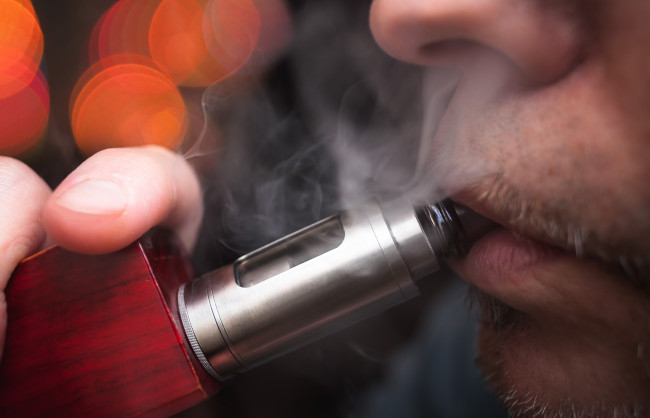 Vapor World, on the other hand, does not provide such a huge selection of e-cigarettes as the other two stores. Their selection is quite limited, and some of the designs look quite cheap. If you don't care about the looks that much, this probably won't matter. But for the ones who want to look the part, this place won't be good enough.
All three shops are quite different in terms of styles they offer. If you don't care about the style and need something simple, then Vapor World is probably just for you. If you want something more special, Direct Vapor or Element Vape are the right places to go.
Special Offers
Just like many other stores, Element Vape offers a handful of useful discounts. Using a special coupon code (EJ10), you can save 10% off e-liquid and even get a free shipping for orders over $50. If you're looking to save some extra on products that are on sale, there's also a clearance saving you up to 40% off and, again, you get free shipping for orders over $50. Element Vape also runs huge sales during most of the holidays.

While shopping at Direct Vapor, if your purchase is $75 or more, you can get 10% off. If your order is at least $50, then you get 5% off. This store also has different weekly deals – this means that some of the products get a special price for that week, so if you're really into saving, then keep your eye on this section.

Vapor World, on the other hand, doesn't offer that many discounts to choose from. You can get points for sharing a post about their website on social media channels, and depending on how many points you have, you can use them to get a special discount code for saving $10-$250 off your purchase.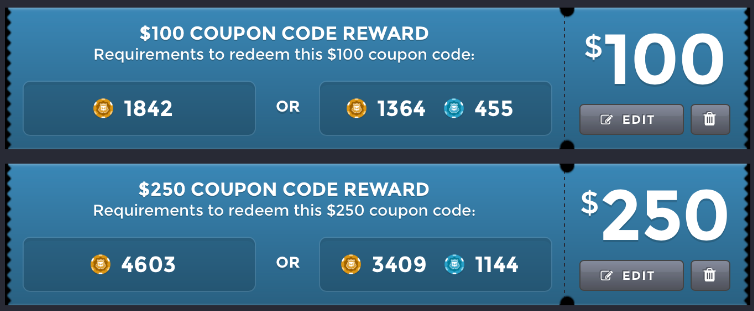 If you're looking for more money to save, then Element Vape is definitely the best choice. Even though this store has one of the biggest price ranges, these discounts are really helpful and make even their most expensive products really affordable.
Conclusion
In comparison, although all three stores are quite similar in the products they offer and the audience they target, it is safe to say that Element Vape is the best choice. This store offers the biggest selection of e-cigarettes and their products are cheaper, so these great quality e-cigarettes are more than affordable at Element Vape.