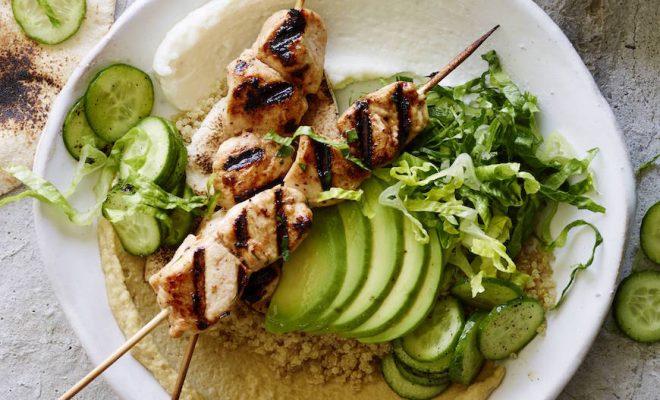 Food & Kitchen
Serious Awesomeness: The Chicken Tawook Quinoa Bowls
By
|
What will you need
For the Chicken:
1/4 cup lemon juice
1/4 cup vegetable oil
3/4 cup plain yogurt
4 cloves garlic, finely chopped
2 teaspoons tomato paste
2 teaspoons red wine vinegar
1 1/2 teaspoons salt
1 teaspoon dried oregano
1/4 teaspoon paprika
1/4 teaspoon ground black pepper
1/4 teaspoon ground allspice
2 pounds skinless, boneless chicken breast halves – cut into 2 inch pieces
fresh parsley
For the Bowls:
2 cups cooked quinoa
2 ripe avocado
1/2 cup homemade Hummus
store bought garlic sauce
sliced Persian cucumbers
1 head romaine lettuce, shredded
served w/ a side of pita bread
1/2 cup homemade Tzatziki, optional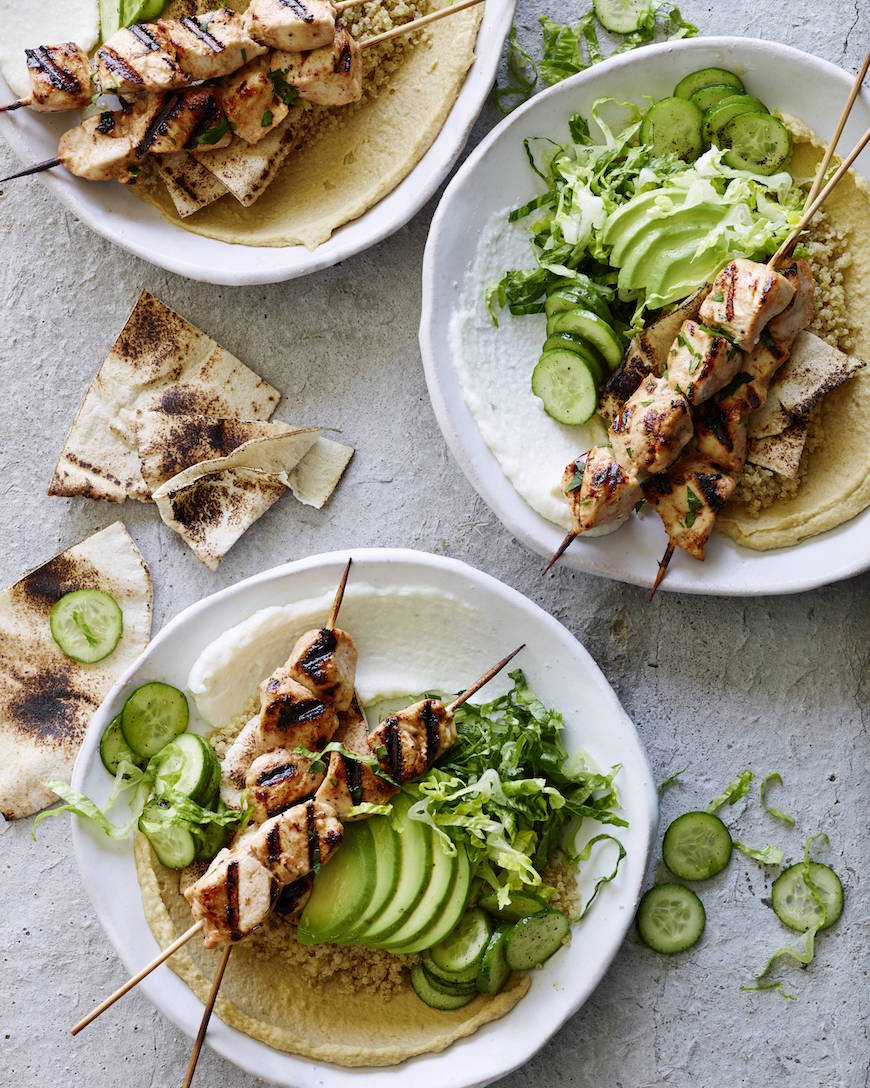 Instructions
Whisk together the lemon juice, vegetable oil, plain yogurt, garlic, tomato paste, salt, oregano, paprika, pepper and allspice in a large bowl; add the chicken and toss to coat. Transfer the chicken mixture into a large plastic bag; refrigerate at least 4 hours.
Preheat an indoor or outdoor grill for medium-high heat and lightly oil grate. Thread the chicken onto metal or wooden skewers. Cook on preheated grill until the chicken is golden and no longer pink in the center, about 5 minutes each side. Sprinkle the parsley over the skewers.
To assemble, divide the quinoa into 4 bowls and top with equal parts of avocado, hummus, garlic sauce, sliced cucumbers and shredded lettuce. Season with salt, pepper and lemon juice if needed. Serve immediately.