Food & Kitchen
Ultimate Brownies With a Homemade Chocolate Topping
By
|
What you will need for the brownies:
1 cup raw walnut pieces

1/2 cup hulled hemp seeds

1.5 cups pitted Medjool dates* (approx. 275g)

1/2 cup raw cacao powder or dutch-processed cocoa powder

1 1/2 teaspoons pure vanilla extract

1/4 teaspoon pink Himalayan salt or fine grain sea salt

heaping 2 tablespoons raw cacao nibs

heaping 1/4 cup raw walnut pieces
For the homemade chocolate topping:
1/2 cup virgin coconut oil

1/2 cup raw cacao powder or dutch-processed cocoa powder

1/4 cup pure maple syrup (or agave nectar for a raw sweetener)

small pinch pink Himalayan sea salt (or fine grain sea salt)

1/4 teaspoon pure vanilla extract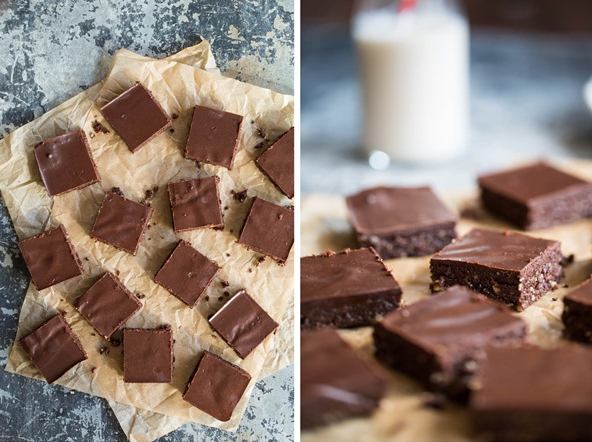 Instructions:
For the brownie: Line an 8-inch square pan with parchment paper, one piece going each way to make it easy to lift out the brownies later on.
In a food processor, process the walnuts into a fine crumb.
Add the hemp seeds and the pitted dates and process until finely chopped and sticky. It should look like a Larabar in texture and appearance.
Add the cacao powder, vanilla, and pink salt and process until thoroughly combined.
Stir or pulse in the nibs and chopped walnuts until just combined.
Evenly press the mixture into prepared square pan until smooth. You can roll it out with a pastry roller until smooth. Place in the freezer for about 10 minutes.
For the chocolate topping: Melt the coconut oil over low heat in a medium pot. Remove from heat and whisk in the cacao powder, syrup, salt, and vanilla until combined and smooth.
Remove the brownies from the freezer and pour on the chocolate topping. Spread out evenly. Carefully transfer the pan to the freezer on a flat, even surface. Chill for 20 + minutes or until the topping is firm enough to slice
Run hot water over a knife for a minute or so, wipe quickly with towel, and carefully slide the knife into the brownies to slice (warming up the knife helps it slice more evenly without much cracking).
Store leftovers in the freezer for a chocolate treat anytime.
Tips:
You'll want to use soft, fresh Medjool dates for this recipe to make it easier on the processor. If your dates are firm, try soaking them in water for 30-60 minutes (and then draining well) before use.
Instead of the raw chocolate topping, you can melt 3/4 cup non-dairy chocolate chips in lieu of the homemade chocolate.