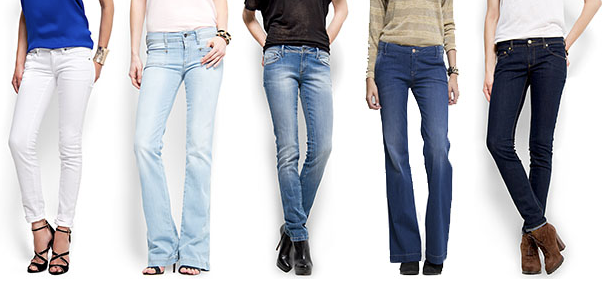 Style
The Quick Guide to Fall Denim For Your Body Type
By
|
Now that we're into September, the days of hot weather and wearing our crop tops are sadly numbered. Don't despair as the mercury begins to drop, however, since it is the perfect time to update your denim collection. For some, trying to find the right pair of jeans can be as aggravating as shopping for a figure-flattering swimsuit. (I can vouch for this as I am constantly on the search for the ideal pair of dark skinnies.) To make your time in the dressing room a little easier, here is my denim buying guide based on your body type.
As you are quite straight up and down, look for a pair of jeans that will help create the illusion of curves. Skinny or jegging styles are excellent options to give you some shape. Look for a lighter wash or pattern with some detailing that emphasizes curves such as strategically placed fading or flap pockets.
Try:
TOPSHOP Moto Dogtooth Skinny Jeans
American Eagle Gray Jeggings
MOTHER The Looker Zip Jeans

H&M Super Skinny Super Low Jeans
You have a naturally symmetrical shape with balanced hips and shoulders and a small waist. To subtly show off your hourglass frame, opt for straight leg jeans. A plain medium to dark wash is ideal for you. Avoid denim with bold details like rips or tie dye, as they would throw off your naturally-proportioned shape.
Try:
Cult of Individuality Karma Straight Leg Jeans

Lucky Brand Dark Carruth Sweet N' Straight Jeans

Siwy Charlotte Classic Pocket Straight Leg Jeans

Mango Lizzy6 Jeans
Your have a broader upper body and narrower hips, so you should search for denim that balances out your top half. A roomy boyfriend style is suitable as the width of the legs counterbalances your shoulders. To draw further attention to your lower half, look for a light or textured wash. If you want a bolder look, try a ripped pair.
Try:
TOPSHOP Moto Tapered Jeans
True Religion Nebraska Cameron Boyfriend Vintage Jeans

River Island Light Wash Boyfriend Jeans
American Eagle Favorite Boyfriend Jeans
A frames are defined as having wider hips and narrower shoulders, so your ideal pair of jeans will streamline your shape. A trouser cut or flares are both figure-flattering choices as they don't overemphasize your hips. A dark, uniform wash without details like fading or whiskering will give you the most slimming look.
Try:
Gap 1969 Modern Trouser Jeans
Miss Sixty Kickflare Jeans
Forever 21 Flare Leg Jeans with Belt
Mango Martina7 Flared Chino Jeans