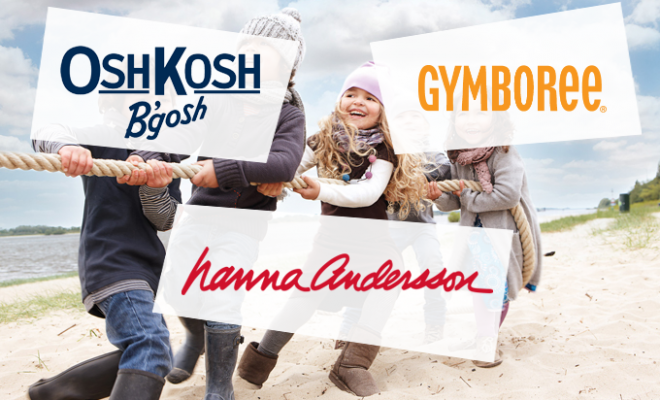 Shopping
Top Online Destinations for Children's Clothing: Gymboree, OshKosh & Hanna Andersson
By
|
Could you imagine that there are about 353,000 babies being born each day? That's roughly around 255 babies every minute. Around 4 babies have been born just as you finish reading this sentence. What an amazing feat! It is for these reasons that baby companies are always on demand, and on the rise. Just as the vision of Gymboree, one of the leading clothes and accessories store for children, states: children is at the heart of everything. Along with other leading online stores in the category, Hanna Anderson and OshKosh B'Gosh, they aim to cater to the clothing needs of every child and baby, offering high quality products for every moment of their childhood. Here, we take a bird's eye view of what they all have to offer:
Gymboree
Gymboree was established in 1976 and started as a mom-and-baby classes. They have been making clothes since 1986. Gymboree has a large selection of product offering for both girls and boys, and toddler boys or toddler girls. Along with their main brand, there are two sister-brands which they carry as well in their online stores: Janie and Jack, Gymboree Play and Music, and Crazy 8. Janie and Jack is the birth product which is mainly inspired by family celebrations and special moments. They offer a product selection which has a classic style with a modern twist: they use fine fabrics and standout details in their clothing. Crazy 8, on the other hand, got its name from the idea that when you're with kids, you're with them 8 days a week. Their clothes are a selection of mix and matching which you can remix and rematch with other pairs. Gymboree Play and Music offers parties and all kinds of events for kids.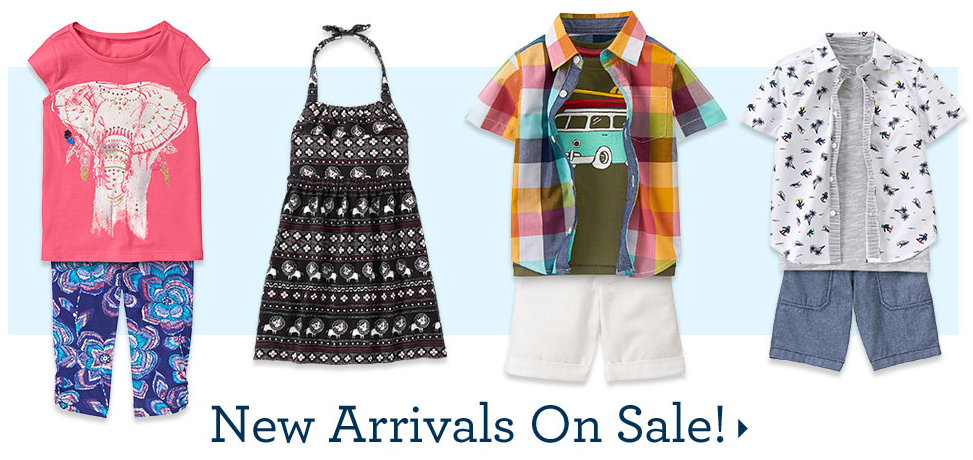 Gymboree product prices are categorized from $4.99, $9.99 to $12.99, respectively. These would include shirts, tops and tees, and dresses for girls, as well as shorts for boys. Currently, they have an on-going Out-Of-This-World clearance slashing prices up to 75% off. Also, when you sign up and subscribe to their email, you get 15% discount on your purchase.

Ordering a Gymboree Visa, has a privilege of 5% off on all purchases, lifetime. And if that doesn't sound good enough for you, Gymbucks allows you to save $25 worth of Gymbucks on every $50 purchase.
Gymboree also makes shopping and shipping easy: with a total purchase of $75, they ship for free anywhere in the U.S. The standard shipping starts at the flat rate of $6 and takes about 10 business days for the delivery. They also offer a Rush Delivery service which takes only about 5 days to delivery but with a premium to your tab of $10.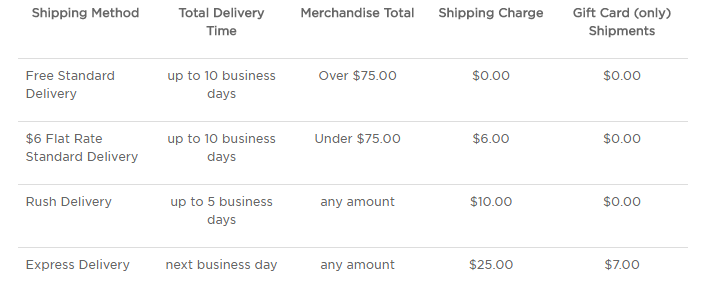 If you're still not up to waiting for 5 days, their Express Delivery service costs $25 and guarantees the item to be at your doorstep the next day. And if you're unhappy with your purchase, Gymboree allows you to return whatever you purchased online to their actual stores in the US or through mail within a 180-day period.
Hanna Anderrson
Founded in 1983, Hanna Anderson has always believed in the fulfillment of giving. They would always give back to kids in need since their humble beginnings . The company, though it is American one, is rooted with Sweden values and ethics, same with the quality of clothes they create. Their clothes are inspired with the idea that kids will be kids. Just as the story of the owners, Swedish lady and American man meeting at Portland Oregon is a colorful one, so is their dream for children all over the world.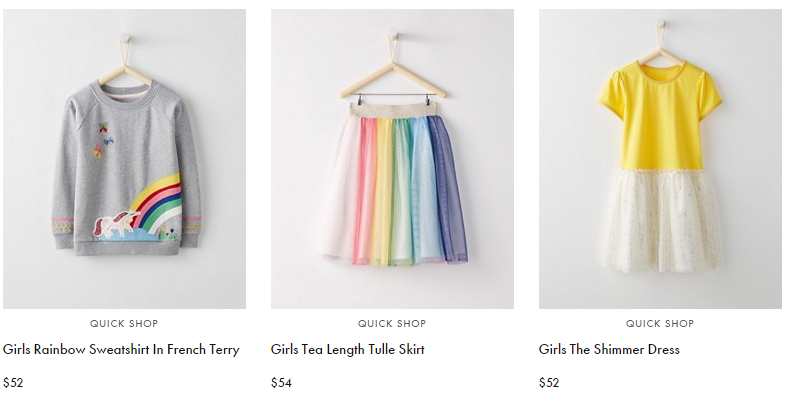 Hanna Anderson offers both clothing and accessories: from girls and boys shoes, tights, slippers, hats, socks to backpacks and more. Their sweatshirts start at $30, jackets are sold at $40, cotton shorts cost $22 while basic tees are $20. Girls' dresses can go as low as $15 and as high as $25-$30. Sandals are sold for about $29 while slippers are only $15 for both boys and girls – a steal for shopping parents. They charge $7.50 for standard shipping and this would take about 3 business days for the delivery.

Next day-deliveries cost $17. If you change your mind about an item, you can have it returned for a fee: $6.95 for a single item and $8.95 for two.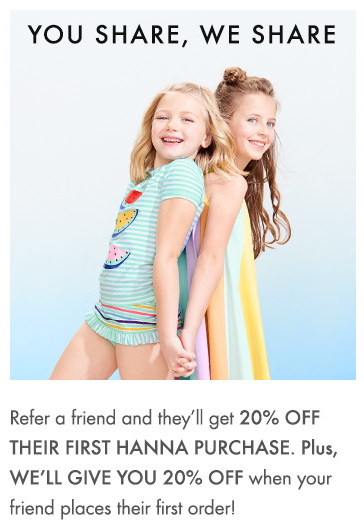 Hanna Anderson is currently having a storewide sale that would take a 20% off your purchase. If you could refer a friend to their website, they will slash 20% of your next purchase as well.
OshKosh
In 1985, in the small town of OshKosh, Wisconsin, the manufacturer of denim bibs and overalls for farmers and workers had an idea and ended up making premium overalls for babies and toddlers. This was the beginning of one of the biggest baby shops in the U.S.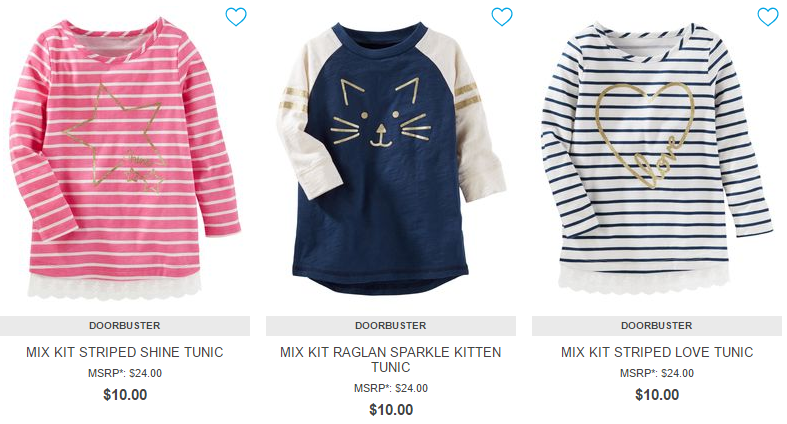 OshKosh offers a variety of denims for boys and girls, both babies and toddlers alike. They have categorized their clothes based on functionality and style from All-American, Mix Shop, Swim Shop, Uniform Shop, Logo Shop, Overalls, and shoes. In 2005, OshKosh and the Carter's brand joined hands in delivering quality baby products to the world. And the result was the trust of families. Their clothes start at $6 for leggings and $40 for dresses and polos. Their shoe shop carries not one, not two but six brands on their belt.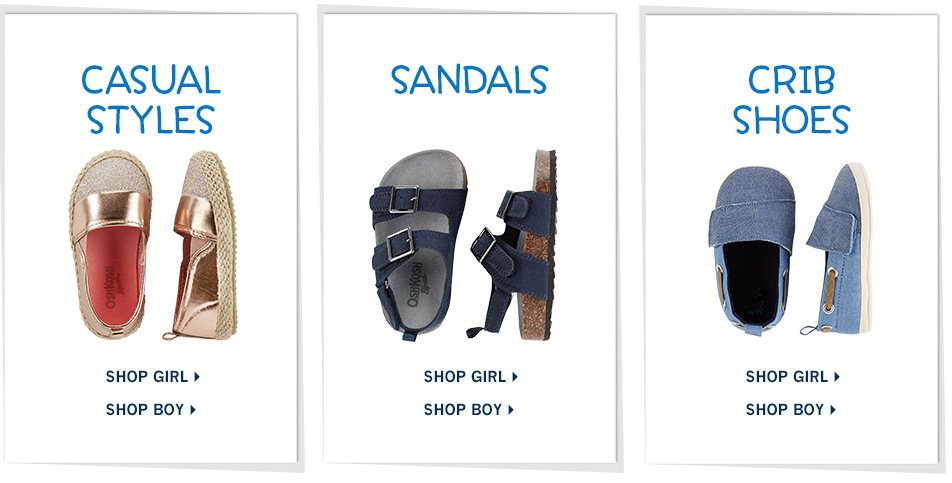 These are Crocs, Pediped, Saucony Kids, New Balance, Western Chief and Stride Rite. They offer casuals shoes, sandals and crib shoes starting at $17 and can go as high as $35 per boy's rubber shoes. All in all, OshKosh provides you a lot of choices when it comes to their products.
They offer free shipping on every $50 purchase and this might just be the right time to grab that chance as they are having their clearance sale slashing 20% off all your $40 worth purchases.

They have a standard delivery rate of $6 which is expedited at about 5-7 days, their overnight or 2-3 days shipping can cost around $15. OshKosh believes in the Happiness Policy wherein you can return an item you're not happy about. They will refund the full item price.
Final Words
All three stores are similar in terms of having one heart and one mind: the comfort and enjoyment of a child. They all offer noteworthy products that cater to specific ages and milestones. However, Gymboree stands out in terms of their online store based on user-friendliness and categorization. With just a few clicks the products of your choice are laid out before you. Another factor is its price categorization, which would be easier for parents to spot which items go with their budgets – both are simple factors but are considered greatly by buyers.