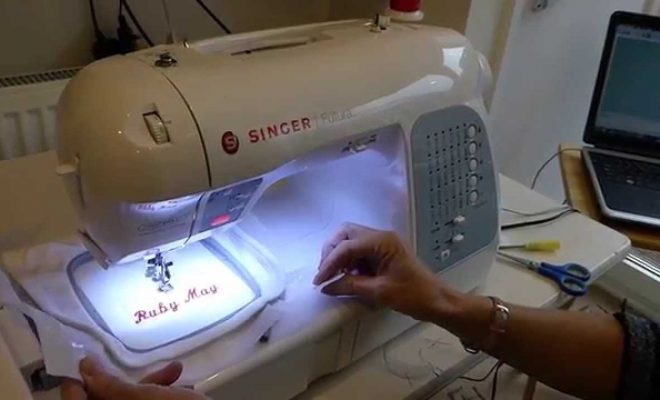 Embroidery
Top 5 Best Embroidery Machines for Home Use
By
|
Brother PE770 5×7 inch Embroidery-only Machine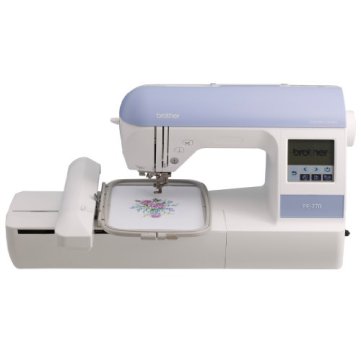 Brother PE77 is one of the most-trusted embroidery machines with features that are sure to make it a delight to use for all users. One of the best things about this embroidery machine is the large 5" x 7" embroidery field. This makes the machine ideal for stitching large designs, like items for home décor, jackets and a lot more. If you compare it to other embroidery machines, you will find that it offers a lot more in terms of in-built fonts and designs.
With over 136 built-in designs, 120 frame pattern combinations and over 6 lettering fonts, there is not a lot that a novice user has to worry about while using this machine. You can also load your own designs in it using the USB port on the machine. This USB port can also be used for uploading machine upgrades to keep the embroider up-to-date.
To make it more user friendly, it also has a LCD back-lit touchscreen that lets you know the settings of your machine and can also be used to view different tutorials, like threading the machine, inserting the embroidery arm and a lot more. An automatic needle threader is added to further boost user convenience. It cuts through the lower and upper threads with just one touch, something that will save you a lot of time.
Along with the embroidery machine, you also get a 5″x7″ hoop, a dust cover, an embroidery arm and an accessory bag with a needle set, seam ripper, 2 screwdrivers, a cleaning brush, 3 bobbins, 3 spool caps and scissors in it. You will also get a 25-year warranty on the Brother PE770 Embroidery Machine. Overall, this is a great monogramming machine for both beginners and advanced users, providing excellent quality of work for every kind of projects.
Brother PE500 4×4 Embroidery Machine With 70 Built-in Designs and 5 Fonts
PE500 is another excellent programmable embroidery machine that the brand has to offer you. It provides you with a total working area of 4"x4", which makes it easy for you to take on any kind of projects. With this machine, you get around 70 preloaded designs, 120 frame-pattern combos and 5 different font styles for monogramming and designing. Along with these, it also lets you upload any designs you want with ease through the USB port. Some of the best features of this embroidery machine are that it lets you easily access the preloaded designs, look at tutorials and do a lot more with the back-lit LCD display.
The work space of the PE-500 is back-lit with enough lighting to make the needle area an easy place to work. The bobbin system used in this model is quick-set drop and in, thus taking away the need of fishing for the thread. Threading an embroidery machine is undoubtedly a hard task, even with the best embroidery machine. However, it will not happen with the Brother PE500, as its automatic needle threader takes care of that for you. All you need to do for this purpose is press a button. The machine is compatible with iBroidery.com as well where you can view and get thousands of limited-edition designs with ease.
PE-500 does not need any assembly and along with the machine, you will get a stabilizer and 3 spools of embroider thread to let you begin embroidering right out of the box. Thus, with top-of-the line features, virtually no maintainece and an affordable price tag, there is little that Brother does not offer with this set of embroidery machines that are right for just everyone!
Brother Designio Series DZ820E Embroidery Only Machine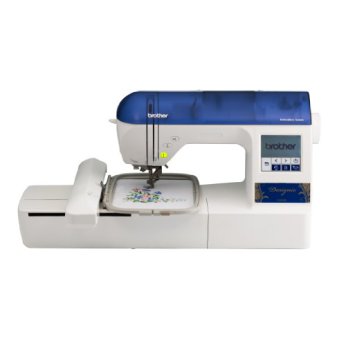 With an embroidery area of 5"x7", Designio Series DZ820E is undoubtedly a high-quality embroidery machine for you if you are looking to embroider large designs without too much of a hassle. The embroidery area is brightly lit with the help of LEDs that further make it easy to work on this machine. It has an LCD touchscreen display that along with letting you select from various designs, also gives you tutorials on inserting the embroidery arm, learning how to thread the machine and a lot more.
This machine has over 120 frame pattern combinations, 6 lettering fonts and 136 embroidery designs that are built-in. Additionally, you can add a range of designs from ibroidery.com and choose one or more from the additional 200 designs that come in the CD of the machine's starter kit. You can also import your own designs through the USB port with the help of a memory stick. Its LCD display lets you mirror-image, rotate, decrease/increase the size and do a lot more with the installed designs before stitching them. These features help both novice and advanced embroiders make the most of the machine without spending too much time learning from manuals and tutorials.
It comes with an automatic threader and thread trimmer to make the task easy for you. Along with that, this machine utilizes the Quick-Set™ drop-in top bobbin that further makes the entire embroidery task easy and hassle-free for you. In the starter kit of the machine, you get 2 additional embroidery hoops (2.5×1 inch and 4×4 inch), a CD with more than $200 worth of designs, 6 spools of embroidery threads, extra bobbins, 1 pack of fabric stabilizers and embroidery scissors made of high-quality steel. All these things come together to deliver you an embroidery machine to let you get on embroidering right away!
Brother PE540D 4×4 Embroidery Machine with 70 Built-in Decorative Designer
The PE540D embroidery machine by Brother gives you a 4"x4" working area, large enough for almost any project you can ever think of. It comes with over 120 frame pattern combinations preloaded in it, along with 105 embroidery designs, 5 embroidery letters and 35 designs of your favorite Disney characters as well! This machine has 1.4"x2.7" LCD touchscreen display with backlight. This can be used for editing and accessing the preloaded designs, adding new designs and viewing different tutorials.
This embroidery machine is one of the best in its category in terms of speed. With up to 400 stitches per minute, it lets you create huge amount of art in very less amount of time. It employs an advanced mechanism for needle-threading. With the press of one lever, the thread is pushed inside the eye of the needle. Users can upload their favorite designs and software with the computer connectivity feature of the machine. For browsing an even greater collection of designs, embroidery lovers can purchase from more than 5,000 designs at iBroidery.com.
There are a set of instruction diagrams on the see-through bobbin, which further adds to the user convenience. The embroidery unit is permanently attached to the machine, which eliminates any need for detaching it for storage or for any assembly needs. The three buttons above the needle, namely start/stop, automatic needle cutter and needle up/down along with the aptly placed tension-adjustment dial make using this machine highly convenient for any type of embroiders.
It supports a great range of fabrics, including natural fibers, denim, synthetic fibers, fine fabrics (like velvet and silk) and even knits. As a result, there is little that users cannot accomplish from this amazing Brother PE540D embroidery machine.
Janome Memory Craft 400E Embroidery Machine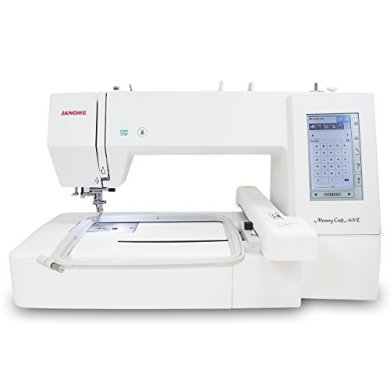 Janome is known for making some of the best embroidery machines available in the market and the memory craft 400E is surely an effort towards that. With a maximum embroidery size of 7.9"x7.9", this machine has an extra wide table that provides you with a large working area. It has 160 built-in embroidery designs along with 6 different fonts that you can use for monogramming. Along with these, loading designs in this machine is also possible using the USB port, meaning that the possibilities of what you can embroider with it are endless.
One of the best features of this embroidery machine is its embroidery speed, which is up 860 stitches/minute. It has programmable jump thread trimming, flexible stitch traveling by units of 1, 10 & 100, adjustable speed while embroidering, direct jump to a specific stitch point, adjustable hoop positioning and auto-return post thread break. All of these features coupled together with the fast stitching speed give you accuracy and precision while helping you get more results in less time. Its automatic thread cutter and advanced needle threader ensure that you spend less time in adjusting the machine and more in creating your favorite designs.
To further boost user convenience, Janome has equipped this machine with a colored LCD touch screen. With this screen, you can edit designs using a variety of functions, like rotate, drag, drop, flip, copy, paste, zoom, grouping and a lot more. Along with the machine, you get a range of accessories, including the 7.9"x7.9" embroidery hoop, screwdriver, needles, scissors, bobbins, spool caps and an instruction manual. You can use three different hoops with this machine, but these have to be purchased separately. These hoops are RE10b 4.3"x5", SQ14b 5.5"x5.5" and RE20b 5.5"x7″ Janome Memory Craft 400E.9". With such a range of features, there is little that this embroidering wonder by Janome does not offer you, making it one of the best choices for any embroidery lover.